Posted by Patricia Kirby Rasmussen on Dec 5th 2019
You are Invited to Celebrate the Lives of Children and Families
The Hope for Children Foundation presents the Hope for Children Annual Gala. This year it will be hosted at Energy Square, 4925 Greenville Ave. Dallas, TX75206, on the first floor of the beautifully designed and updated building, December 19, 2019, from 6:30 P.M. – 9:00 P.M.
Brought to you by: Hope for Children Foundation® AKA Hope for Children®
Santa will join us as we hear from a very special Children's Choir. This Christmas Season may be enhanced for us as we listen to the angelic voices of the children singing.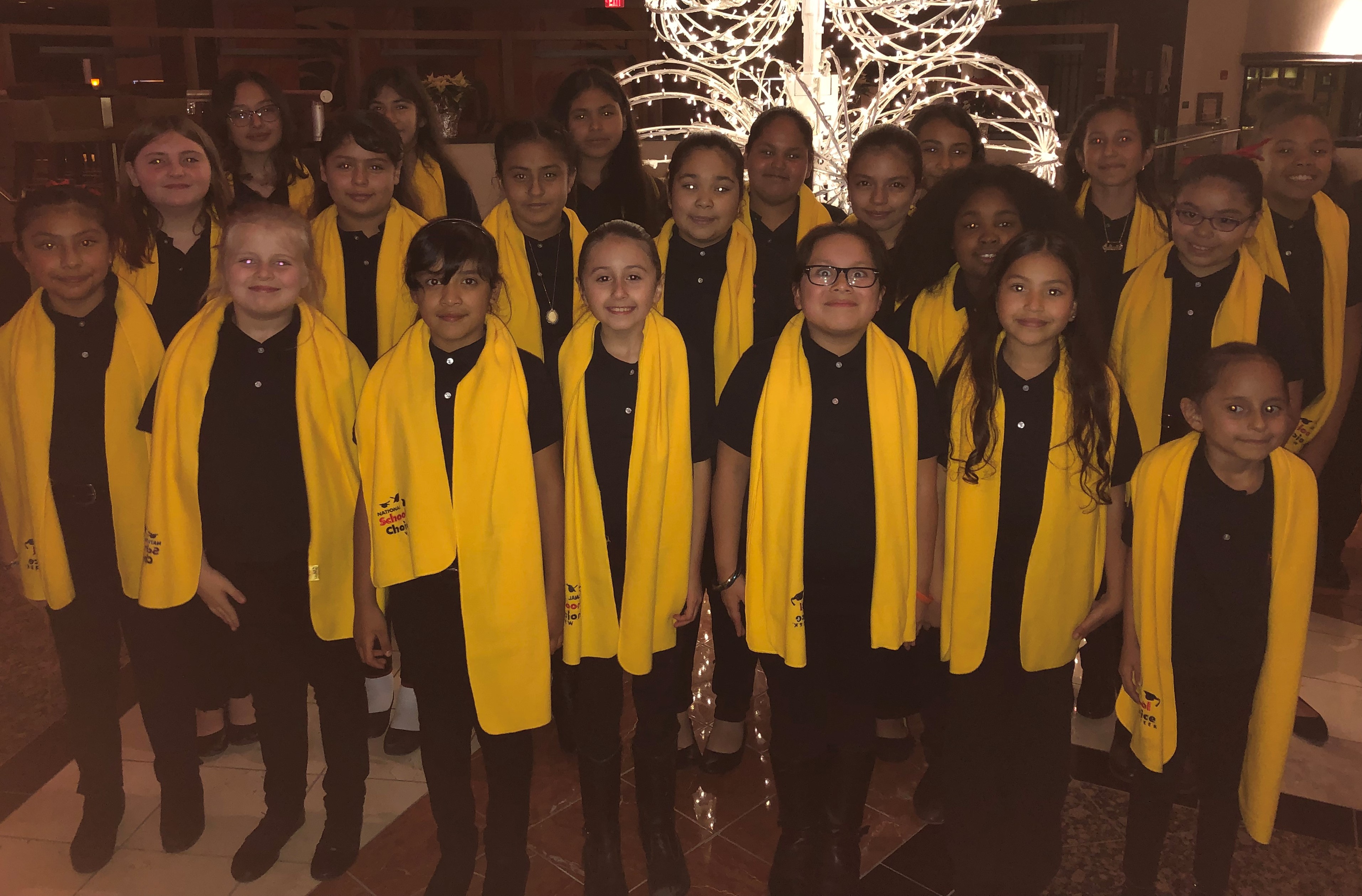 A + Academy Show Choir - Choir Director Mr. Mark Rendon
Please RSVP by emailing your reservation to:info@hopeforchildrenfoundation.org and state the Parent's name, and how many children and adults will be attending. The event is free. Attire: Cocktail and Sunday's best for children.
We will honor the Choir Director, Mr. Mark Rendon. He has contributed so much to the lives of children throughout the years. Thank you so very much! Honors will be given to Mr. Rendon, by his long time friend Dr. Brenton White.
We will gratefully recognize Attorneys John and Diana Cone, for their dedication to children throughout the United States. John and Diana Cone tenaciously protected Hope for Children Foundation victoriously on numerous occasions in the United States Patent and Trademark Office. Their heroic actions benefit this charity, Hope for Children Foundation, and the children and families served by this 501(c)(3) non profit organization.
The following Awards will be announced during the 2019 Hope for Children Annual Gala: (1) The Hope for Children Award; (2) Outstanding Children's Choir Award; (3) Young Professionals Volunteer of the Year Award; (4) Community Volunteer; (5) Corporate Volunteer; and (6) Group of the Year., in addition to recognizing the Director of the special children's choir. All of this takes place and much more.
Last year's Gala, (bottom left to right) Patricia Kirby Rasmussen, Fannie L. Hope, Ed Rasmussen, (top left to right) Sheree Baur, Lisa Spikes, and Jasmine Spikes.
The organization was named in honor of Patricia's parents, James W. and Fannie L. Hope.
Please review our last year's Gala video by clicking on the attached link:
https://hopeforchildrenfoundation.org/gala/Official Website: https://hopeforchildrenfoundation.org
Patricia shared, "We look forward to sharing the excitement of the Hope for Children Annual Gala. This charity social occasion may surprise the attendees with stunning entertainment of the children's choir, and the Party Machine dance band, affiliated with Emerald City Band. We look forward to seeing our friends, supporters, sponsors and listening to a music filled evening at the Hope for Children Annual Gala. So, join us and we will see you there."
No alcohol will be served due to children being present. Coffee, an assortment of hot and cold tea, carbonated drinks and juices will be offered with a catered meal. Or Contact: Patricia Kirby Rasmussen (214) 382-4673
Standing Strong for Children and Families Action Drives Results
You can absolutely help change the future for children throughout this nation by taking what science has made clear and implementing proven strategies toward the best possible outcomes for children and our families.
The mental health of every individual is very important. Hope for Children Foundation is committed to children, teens and adults by celebrating precious lives through education. One of the many ways Hope for Children Foundation reaches into the community is through supporting children and families at Christmas time, through the Hope for Children Annual Gala and Toy Drive.
Most of us have experienced something sad during the Christmas Holidays. That sadness for some can grow into something more serious if not dealt with accordingly. It is our goal with the Hope for Children Annual Gala, to be that safety net of care and love needed during those times. Through research and experience, we have found day to day living in which circumstances develop can add to existing complications manifesting into mental health issues. When such mental health issues exist, we need the comfort of one another. We do not need to be isolated.
So many situations related to mental health may lead to isolation; such as the death or illness of a loved one; financial difficulties may arise causing overwhelming isolation; social situations may arise needing the warmth of a true friend or family member to be there for you – but yet that "friend" or family member may not be there for you. Help us combat the epidemic of isolation. Isolation is among the tragic ironies of modern life. People have never had so many ways to connect, yet more and more of us feel disconnected, possibly lonely and isolated. Who is at risk of loneliness?Everyone is at risk, loneliness does not discriminate against anyone.
According to the World Health Organization, 450 million people world-wide suffer from some mental-health condition at any given moment. Studies show one in five adults will experience mental illness in the course of a year, in the United States. Over twenty-one percent of children ages thirteen to eighteen suffer from a serious mental-health condition at some point in the delicate developmental window; thirteen percent among kids ages eight to fifteen are at risk of mental illness.
Further, the social cost of all of this is overwhelming. Seventy percent of kids in the juvenile-justice system suffer from at least one such condition. The dollar cost of so much illness is staggering. World-wide, more than $2.5 trillion per year is spent on mental-health care, a figure that's on track to accurately measure $6 trillion by the year 2030, according to the National Institute of Mental Health. Six trillion dollars will be spent willingly to help those in need. Mental illness continues to touch too many, and the treatments and cures, unfortunately will not reach everyone in need.
Support Hope for Children Annual Gala and Hope for Children Foundation
With your generous support we can reach children and families who may not receive any help except through our efforts. We want you to know we are not one of the largest charities in the world, although we have a great love for kids. Please place Hope for Children Foundation on your charity watch list and give generously today.
What charities give the most? We certainly are among the leaders of this group by giving back to children and families throughout the United States. Make a significant difference in the lives of children today, join us now.
We hope you celebrate the lives of children and families with us at the Hope for Children Annual Gala!
See you then!
Patricia L. Hope Kirby Rasmussen, and all of the members of the Board of Directors