Posted by Patricia on Aug 24th 2018
Hope for Children Foundation board members believe love is essential for each and everyone of us to live healthy productive lives. Reassuring our loved ones we care and love them is very important.
Reassuring with Unconditional Love
Love is the language reassuring all of us, especially children, we belong in this world. The feelings of belonging to our family unit and to the community are important for healthy development. The acts of demonstrating love binds unspoken and spoken words that say so many things. Such an act can be simple, small, and reassuring by fulfilling a human heart to the brim with "I-love-you-to-the-moon-and-back."
Most Powerful Element
You probably know love is the most powerful element in the world. Do you convey to your child(ren) and other loved ones, you love them no matter what? This reassurance is vital, whether they are in the middle of a meltdown or when they make a mistake. Not to worry if this is missing in your life. A good time to start is now. It is not too late, no matter the age, for.
Unconditional Love
Please remind your child(ren), other loved ones and friends, they are loved for being who they are. Make certain your child(ren), other loved ones and friends know they do not have to do anything or perform a certain way to receive your love. This is unconditional love; reassuring your loved ones usually makes a lasting difference.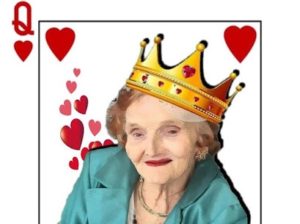 Queen of My Heart
My mother and father tried their best at giving all of their children and loved ones unconditional love. My mother is the "Queen of My Heart!" My father to me, was truly a Prince. We named this organization, Hope for Children Foundation in their honor. My mother turned 95 years old this past April, and she is looking forward to many more years on this earth.
We sincerely hope you benefit from these words of encouragement.
Most respectfully,
Patricia Co-Founder Hope for Children Foundation