Posted by Patricia on Jan 6th 2018
You can help children and families. Learn what you can do to help provide a better and safer environment for children, their family and you?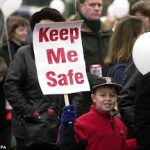 Use Your Social Media Contacts
We invite you to use your social media contacts and share our free video training to reduce crimes of sexual assault and domestic violence against children and adults. Just share our Web site, www.hopeforchildrenfoundation.org/training and by doing this, you will help children.
Help children and families by facilitating widespread access to legal, medical and mental health experts so that all appropriate resources are available to victims and their families. Many resources are available on our Web site. Since abuse is a learned behavior. We can create a cultural safety net for children at risk through extensive awareness campaigns, education, training, job preparation and public/private resources. So we ask you again, to please use your social media contacts to spread the good news about how each of us can take steps to reduce crimes of sexual assault and domestic violence against children and adults.
To This End: You Can Help Children and Families
We invite you to be apart of educating the general public, families, federal and state law-enforcement officials, members of the judiciary, educators, medical professionals, criminal justice professionals, family shelters, rape crisis centers, and other community organizations about sexual and physical abuse and its prevention, by sharing this information on our Web site. Ours is a 'systems' approach whereby we identify and fill critical voids that threaten the well-being of children who are at risk of 'falling through the cracks.' Do you want to help children? Just help us with these requests please. Living an abuse-free life is more than a hope or a dream – it is a child's right. Contact us should you need a lawyer.
Yes, You May Share The Group of Experts
Providing the general public, metoo participants, and first responders with uniform state and federal child abuse training; Hope For Children Foundation's first training project was partially funded through a grant provided by the United States Department of Justice, Violence against Women Fund, and the Office of the Texas Governor Criminal Justice Division. The training program was very well received and, because of its success, we have significantly expanded our impact through the power of the Internet.
We place most of our training on our Web Site.
https://hopeforchildrenfoundation.org/
This training is free. The online video presence is intended to help train citizens throughout the nation about taking steps to better protect and help children.
https://hopeforchildrenfoundation.org/members-2/training-videos/
Every year more than 3.6 million referrals are made to child protection agencies involving more than 6.6 million children. American – based public charities and organizations like ours are making real and measurable differences on local, state, regional and national levels.
Web site: https://hopeforchildrenfoundation.org/
We look forward to hearing from our patrons and welcome both your support and involvement to help children!
I cannot thank you enough,
Patricia L. Hope Kirby, Co-Founder