Posted by Patricia on Mar 17th 2017
2018 Hope For Children Foundation Annual Liberty and Justice Walk information follows. We have chosen to postpone our annual walk until October 2018 out of respect for the urgent needs of those who are being challenged by the effects of the recent hurricanes. We encourage our supporters to assist the people impacted by the disasters, and those responding to people struggling along the Texas Gulf Coast, the Florida Coast and other areas needing help to recover. Our thoughts and prayers are with them. Thank you for your understanding and compassion concerning these issues.
2018 Hope For Children Foundation Annual Liberty and Justice Walk
Join Hope For Children Foundation and Supporters!!!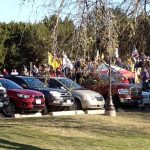 Bring yourself, your family and friends, enjoy a great view of White Rock Lake, then join us for fun, photos, a parade, live music and bring a picnic for after the walk in, October 2018. The 2018 Walk Day Schedule of events, entry fees and donation availability, will be posted on the Web site in 2018.
Volunteers
Volunteers for the 2018 Walk will gather beginning about 4:30 a.m. The location of the 2018 Walk is Flag Pole Hill, White Rock Lake, 8015 Doran Circle, Dallas, Texas 75238. Signs will be posted at Flag Pole Hill, to direct you and prepare you for the festivities.
We invite you, your friends, family and colleagues to join us for this day to recognize the importance of children throughout this nation and the world. Living an abuse free life…is more than an hope or a dream. Help and intend to make an abuse free life available for all children, through your donation by supporting this 2018 Walk. Entry fees for the Walk go toward financially supporting the mission of Hope For Children Foundation and the services provided for the benefit of children, adults and families.
2018 Walk Schedule
The 2018 Walk Schedule will include the following information in 2018:
Volunteer Check-In Time
Walk Day Registration and Entry Fee amounts
Photo Opportunity with Area Stars
Aerobic Warm-Up with Area Stars
Competitive/Timed Walk
Casual Walk
1-Mile Family Fun Walk
25-Yard Kids Dash
50-Yard Kids Dash
Face Painting & Balloon Shaping
Live Music with Parade
Awards Ceremony
We look forward to you joining us! Show the kids how much you really care!
Most Respectfully!
Hope For Children Foundation
Board of Directors