Posted by Patricia on Feb 6th 2018
I would like to suggest a metaphor for Hope For Children Foundation. This metaphor is aircraft carrier. An aircraft carrier engages in preparing others to protect what is most sacred to them. Aircraft carriers equip planes to carry the plan elsewhere. The planes are loaded up with fuel and everything else needed to complete the plan. Then they take the plan to the enemy to defeat the enemy.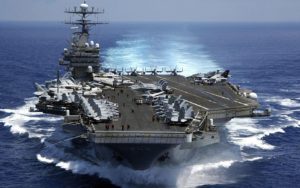 Fuel Up With Our Training
Hope For Children Foundation provides free online video training to the general public. Our training was created to help reduce crimes of sexual assault and domestic violence. We encourage you to fuel up with our training by landing on our aircraft carrier, Website, Hope For Children Foundation, https://hopeforchildrenfoundation.org. Click on Training, Resources, Get Support and other Icons within the Menu and stay as long as you want. The training and resources can empower and prepare anyone for the battle. This battle is like no other. Allow Hope For Children Foundation to help you and your family, neighborhood, church, community, fellow workers, city, state and nation to face America's most horrifying battle, the destruction of our youth. Child abuse has touched the lives of too many families. So please help end child abuse and abuse among our teenagers, young and older adults.
Win the Battle Over Child Abuse
This aircraft carrier, our Website, is powered by the Internet. It is not in the water as the photo above, although as a metaphor we are similar. We invite you to continue landing on our Website to refuel to overcome child abuse. Please remember us as a resource to empower you when your candle is not burning brightly and possibly losing its flame. Hope For Children Foundation is here to keep the flame burning in our hearts and yours for every child throughout the world.
Thirsty for Knowledge
Thank you for allowing us to be your aircraft carrier. Our Website has received over 17,000 visitors in the past one and a half years. Many of those visits are from people within the Department of Education of almost each state of this nation. They are represented by visiting our aircraft carrier, Website. Thirsty for knowledge, they fuel up to help end child abuse, learning how we all can take steps to end this horrible plague.
Metric for Success Beyond Size
We need a new metric for success beyond size. That metric will show up when we end child abuse together as a team. Thank you for being on our team. I cannot thank you enough. We celebrate how many people are coming onto our Website. It brings joy to our hearts knowing each visitor has the ability to equip themselves to end child abuse in their family as they leave our aircraft carrier, Website and go out into their homes, workplace, community, church, city, state and nation equipped with the knowledge to better protect children from abuse. Thank you #MeToo and Time's Up Movements and all of the other wonderful organization working to end sexual assault and domestic violence. It's time we all get excited about joining together to become the best we can be for the future of our children and families.
I cannot thank you enough,
Patricia L. Hope Kirby, the Board of Directors and our Patrons