Posted by Patricia on Jul 21st 2019
Hope for Children Annual Gala
What is the Hope for Children Annual Gala? The Hope for Children Annual Gala is a charity social occasion with stunning entertainment, events and special performances which bring large numbers of guests. You may experience a refreshing music filled evening at the Hope for Children Annual Gala.
To view the video taken from the 2018 Hope for Children Annual Gala, click this link:
https://hopeforchildrenfoundation.org/gala/
What should you expect at the Gala? The guests are given opportunities to enjoy an evening of socializing, entertainment, food and drink, and raising funds for Hope for Children Foundation. Usually, the guests will be entertained with an evening of singing and music from a very exciting children's choir. Just before the children begin singing, we will briefly hear a few special voices from people working for companies that donate to nonprofits through their specialized workplace giving campaigns. We welcome their sincere expressions of happiness from serving children, families, this community, and this nonprofit charity, Hope for Children Foundation. You will also hear from the charity organizers and other people involved with companies that give back to the community by donating to Hope for Children Foundation.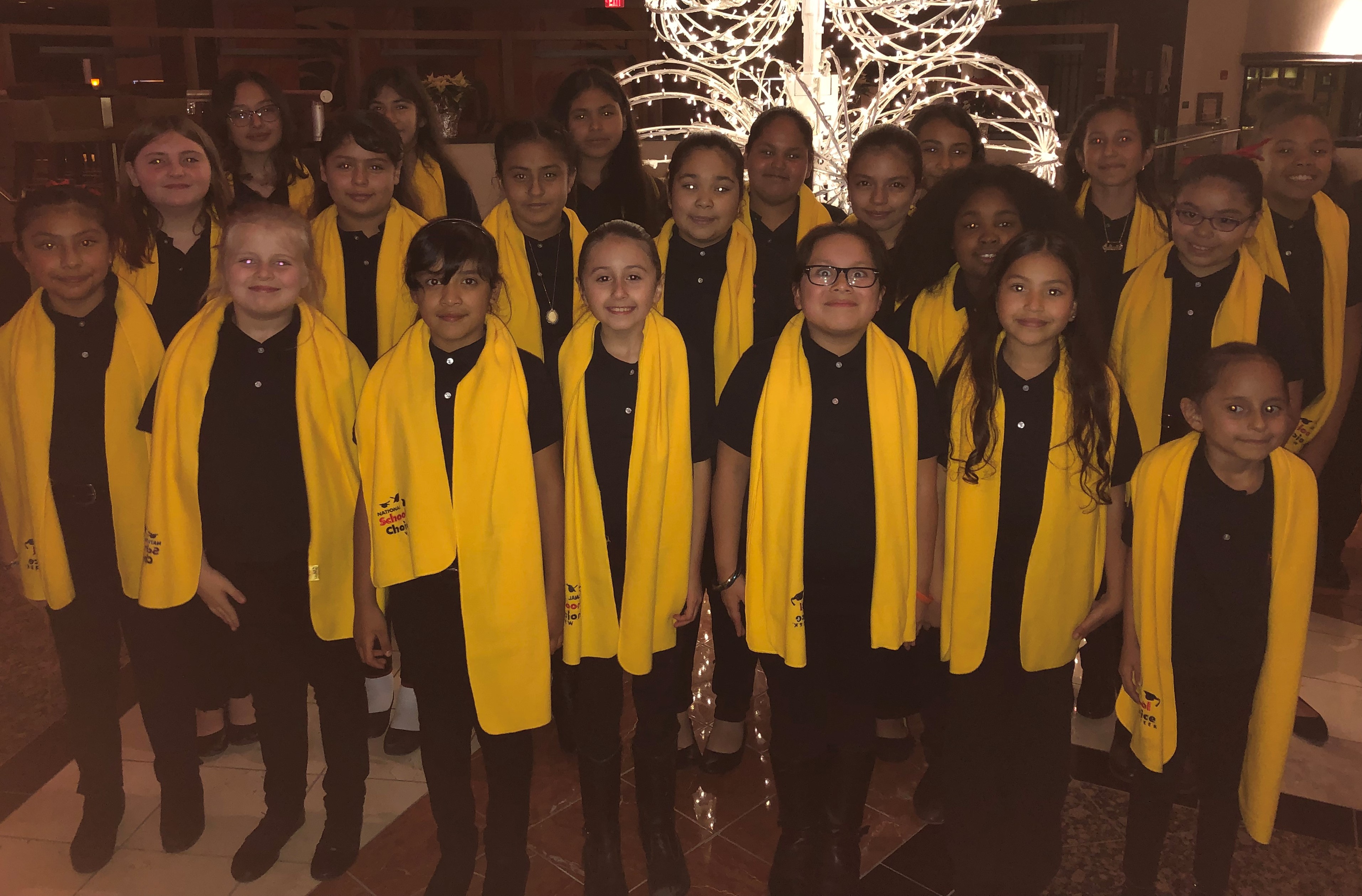 Awards
The following Awards will be announced during the 2019 Hope for Children Annual Gala: Hope for Children Award; Outstanding Children's Choir Award; Young Professionals Volunteer of the Year Award; Community Volunteer; Corporate Volunteer; and Group of the Year, in addition to recognizing the Director of the special children's choir. All of this takes place and much more.
This past year, the 2018 Hope for Children Annual Gala included honoring the Dallas Police Department Santa Cops. Prior to the 2018 Hope for Children Annual Gala. The Hope for Children Foundation Toy Drive supported the 2018 Dallas Police Department Santa Cops Toy Drive and participated in the distribution of the toys to many children. The children receiving the new toys were so excited and happy. It means so much to all of us to see the precious faces of these children, smiling and expressing their joy at any given time.
Hope for Children Foundation and the Dallas Police Department give back to the community on a daily basis, not just at Christmas time. It is an honor for Hope for Children Foundation, to serve the children in this community and throughout the nation. On behalf of the children we serve, we thank everyone involved in the 2018 Hope for Children Foundation Gala, Toy Drive, the Dallas Police Department Santa Cops Toy Drive and the distribution of the toys. You really care!
Toy Drive Recognized at Gala
On Saturday, December 15th, Hope for Children Foundation, its volunteers, together with Chief U. Reneé Hall , Dallas police officers, family members and volunteers from all divisions, participated in the 34th Annual Santa Cops program. Since 1984, the Dallas Police Department has provided assistance to members of the community by delivering toys and food during the Christmas season. The Santa Cops program was designed to assist members of the community who have been victims of crime and as a result of that act; are unable to provide for their children during the holidays.
Standing Strong for Children and Families
Unfortunately, victims of crime experience numerous setbacks during their lifetime. Please allow us to share some important facts with you for your better understanding of why Hope for Children Foundation stands strong for children and you.
First of all, training and education provided through Hope for Children Foundation gives children, families and you the opportunity to keep children safe, strengthen families, and advance a healthy tomorrow by requiring state agencies and community stakeholders to create a strategic, cross-sector plan to prevent and mitigate the effects of Adverse Childhood Experiences (ACEs).
It is important to connect children, families, you, organizations and systems to understand how we all can take steps to prevent childhood adversity, facilitate healing from trauma, and promote resilience in children.
The scientific studies and the results of the studies conducted regarding these issues are clear: multiple and chronic Adverse Childhood Experiences such as child abuse and neglect or living with a caregiver who is experiencing mental illness, substance use, violence, or incarceration can disrupt brain function and/or chemistry in a child's developing brain. This disruption explains the correlations between childhood adversity and increased likelihoods for risky behaviors, disability, chronic disease, suicide, and the tragic end of life.
The impacts of ongoing adversities on child and adult behavior, and health have been well documented over the past two decades by numerous reputable research sources including Centers for Disease Control and Prevention, the journal of the American Medical Association, The American Academy of Pediatrics, National Institutes of Health, Harvard's Center for the Developing Child, and many others.
For example, children who have experienced 4 or more ACEs are:
2.2 times more likely to have heart disease
2.4 times more likely to have a stroke
4.6 times more likely to suffer from depression
4.7 times more likely to use illicit drugs
12.2 times as likely to attempt suicide
These long-term health outcomes must be dealt with to prevent multiple and chronic childhood adversities and be treated as an emergency public health issue.
The original ACEs study conducted in Texas, included over 16,000 adults having healthcare issues. The results of the study are:
10% reported emotional abuse;
20% reported sexual abuse;
25% reported physical abuse;
and 25% reported that they had experienced neglect as children.
Rates of reported household mental illness was 19.4%;
Rates of reported household substance abuse was 26.9%;
Adversities were also high and are known to be potential issues of child abuse and neglect. In 2017, at least 24% of Texas children had already experienced 2 or more ACEs.
Adverse Childhood Experiences and trauma do not dictate the future of a child, or the identity of that child. Children with protective factors like healthy attachment to parents, safe school and home environments, and access to community resources can build the resilience to thrive despite adversity.
Help Hope for Children Foundation empower children, families, you and communities with access to best practices so we all can implement the best strategies that work best to protect our children and families from the long-term impacts of early trauma.
Action Drives Results
You can absolutely help change the future for children throughout this nation by taking what science has made clear and implementing proven strategies toward the best possible outcomes for children and our families.
The mental health of every individual is very important. Hope for Children Foundation is committed to children, teens and adults by celebrating precious lives through education. One of the many ways Hope for Children Foundation reaches into the community is through supporting children and families at Christmas time, through the Hope for Children Annual Gala and Toy Drive.
Most of us have experienced something sad during the Christmas Holidays. That sadness for some can grow into something more serious if not dealt with accordingly. It is our goal with the Hope for Children Annual Gala, to be that safety net of care and love needed during those times. Through research and experience, we have found day to day living in which circumstances develop can add to existing complications manifesting into mental health issues. When such mental health issues exist, we need the comfort of one another. We do not need to be isolated.
So many situations related to mental health may lead to isolation; such as the death or illness of a loved one; financial difficulties may arise causing overwhelming isolation; social situations may arise needing the warmth of a true friend or family member to be there for you – but yet that "friend" or family member may not be there for you. Help us combat the epidemic of isolation. Isolation is among the tragic ironies of modern life. People have never had so many ways to connect, yet more and more of us feel disconnected, possibly lonely and isolated. Who is at risk of loneliness?Everyone is at risk, loneliness does not discriminate against anyone.
According to the World Health Organization, 450 million people world-wide suffer from some mental-health condition at any given moment. Studies show one in five adults will experience mental illness in the course of a year, in the United States. Over twenty-one percent of children ages thirteen to eighteen suffer from a serious mental-health condition at some point in the delicate developmental window; thirteen percent among kids ages eight to fifteen are at risk of mental illness.
Further, the social cost of all of this is overwhelming. Seventy percent of kids in the juvenile-justice system suffer from at least one such condition. The dollar cost of so much illness is staggering. World-wide, more than $2.5 trillion per year is spent on mental-health care, a figure that's on track to accurately measure $6 trillion by the year 2030, according to the National Institute of Mental Health. Six trillion dollars will be spent willingly to help those in need. Mental illness continues to touch too many, and the treatments and cures, unfortunately will not reach everyone in need.
Support Hope for Children Annual Gala and Hope for Children Foundation
With your generous support we can reach children and families who may not receive any help except through our efforts. We want you to know we are not one of the largest charities in the world, although we have a great love for kids. This love could be measured, it could fill the deep and wide oceans throughout the world. We are one of the most popular charities, proven with visitor traffic to our Website. Hope for Children Foundation is one of the best nonprofits to donate to daily, weekly, monthly or annually to help children and families. Do you know what charities to give to? Please place Hope for Children Foundation on your charity watch list and give generously today.
What charities give the most? We certainly are among the leaders of this group by giving back to children and families throughout the United States. Make a significant difference in the lives of children today, join us now.
Thank you,
Hope for Children Foundation, Volunteers and Supporters